2017 Rocky Mountain Old-Time Music Festival
(8th Annual | July 5-9, 2017)
2017 Lineup:
Performers for the 2017 Rocky Mountain Old-Time Music Festival are as follows:
Eddie Bond and the New Ballards Branch Bogtrotters
The Ozark Highballers
Jesse Milnes and Emily Miller
The Musky Dimes
Lansford and McAlister
Larry Edelman and Phil Jamison
Eddie Bond and the New Ballards Branch Bogtrotters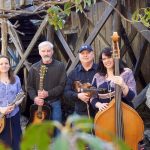 In 1986 a group of musicians from the Galax, VA area formed a new band. The New Ballards Branch Bogtrotters took their name, in part from the original Bogtrott
ers o
f the 1930's also because band leader Dennis Hall lives on Ballards Branch. Dennis' home is very close to the home of Uncle Eck Dunford who played fiddle in the original band. The other members of the original Bogtrotters were Uncle Wade Ward, his brother, Davy Crockett Ward, and nephew Fields Ward, and Doctor Davis. They won the very first fiddlers Convention in Galax setting a precedence for all that follow in their footsteps. The New Ballard's Branch Bogtrotters continue to play in the traditional Appalachian string-band style often playing for square dances around the region. Rounding out the Bogtrotters lineup are: Eddie Bond on Fiddle,Dennis Hall on Guitar, Phil Jamison will be sitting own for Josh Ellis on Clawhammer Banjo, Bonnie Bond on Bass and Caroline Beverley on Mandolin. Old time music is alive and well, and continues to attract fans of all ages. The New Ballards Branch Bogtrotters remain a driving force in carrying the traditional music of the Virginia/Carolina Blue Ridge into the new millenium. It is our hope to be an inspiration for future generations of mountain musicians!
The Ozark Highballers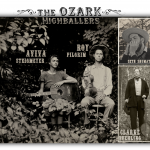 The Ozark Highballers are a four piece string band from Fayetteville, Arkansas. This old-fashioned ensemble features the rollicking chords and bass runs of Aviva Steigmeyer on guitar, the rhythmically intricate string tickling of Clarke Buehling on finger-style banjo, and the dynamic melody duo of Seth Shumate on harmonica and Roy Pilgrim on the fiddle. All four members of the group take turns singing lead and harmony parts on a selection of songs from 19th century novelty numbers to timeless mountain ballads. The Ozark Highballers reach deep into regional traditions to offer an entertaining program that includes dance tunes, songs, and humor.The group is a vital part of the Northwest Arkansas square dance community as well as being popular at traditional old-time music festivals throughout the United States such as the Brooklyn Folk Festival, St. Louis Folk and Roots, and the Stephen Foster Old-time Weekend. Their music reflects the spirit and drive of the rural string bands of the 1920s and 30s, particularly those of the Arkansas Ozarks. Learn more about the Ozark Highballers here:  
https://avivazoe.wixsite.com/ozarkhighballers
Jesse Milnes and Emily Miller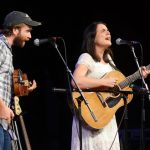 Jesse Milnes and Emily Miller perform country and old-time music, singing close harmony with Jesse's unique finger-picked guitar style and a healthy dose of old-time fiddling.  Emily was raised playing and singing old-time and country music (the Louvin Brothers and the Stanley Brothers were household favorites) with her parents while they traveled the world as journalists. Jesse grew up in the world of West Virginia old-time music, learning from masters like Melvin Wine and Ernie Carpenter as well as his father, Gerry Milnes.  They now make their home in central West Virginia. Learn more about them at 
http://www.emmyandjesse.com
Photo credit: Brian Blauser / Mountain 
Stage
Musky Dimes and Lansford and McAlister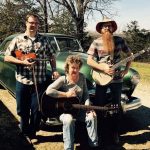 Kim Lansford lives on an Ozark ridge in Stone County, MO where she raises Katahdin sheep and confronts becoming a farm woman. Kim's extensive involvement with old time music began long ago when she moved to the Ozarks in southern Missouri. For more than thirty years she performed with her late husband Jim whose vast repertoire of Missouri fiddle tunes, and their combined powerful close harmony singing became their trademarks and led to travels far and wide. Currently, Kim performs with Nathan Lee McAlister and David Scrivner as the Musky Dimes, and with Nathan as the duo Lansford & McAlister. Both Nathan and David have lived their lives in the MO Ozarks absorbed in the fiddle music of the region.
Dance Callers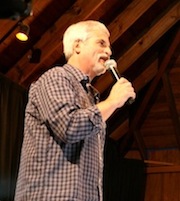 Larry Edelman (Denver, CO) – Larry Edelman has been playing, calling, and teaching for traditional dances for more than 35 years. He plays fiddle, guitar and mandolin in several bands, including the Soda Rock Ramblers, the Percolators, and right here in Colorado, the Prairie Chickens. A renowned dance caller and teacher Larry has traveled widely throughout the United States and in Europe, delighting both novice and veteran dancers with his humor, enthusiasm, skillful teaching, knowledge of dance history, and colorful calling. Larry is an avid dance researcher and during the 1980's while collecting traditional square dances in southwestern Pennsylvania, he was awarded a Fellowship in Folk Arts from the Pennsylvania Council on the Arts to study with elder caller Jerry Goodwin, and produced the movie Dance to the Music and Listen to the Calls that documented the apprenticeship. Larry also produced Yee Haw, a quirky and informative movie of how square dancing has been portrayed in historical, non-theatrical motion pictures. Larry has trained scores of square dance callers who have attended his acclaimed intensive square dance calling workshops.
---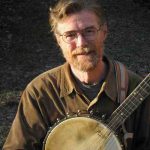 Phil Jamison (Asheville, NC) – Phil Jamison is nationally-known as a dance caller, old-time musician, and flatfoot dancer. He has called dances, performed, and taught at music festivals and dance events throughout the U.S. and overseas since the early 1970s, including more than thirty years as a member of the Green Grass Cloggers. His flatfoot dancing was featured in the film, Songcatcher, for which he also served as Traditional Dance consultant. From 1982 through 2004, he toured and played guitar with Ralph Blizardand the New Southern Ramblers, and he also plays fiddle and banjo. Over the last thirty years, Phil has done extensive research in the area of Appalachian dance, and his recently-published book Hoedowns, Reels, and Frolics: Roots and Branches of Southern Appalachian Dance (University of Illinois Press, 2015) tells the story behind the square dances, step dances, reels, and other forms of dance practiced in southern Appalachia. Phil teaches mathematics as well as Appalachian music and dance at Warren Wilson College, in Asheville, North Carolina, where for twenty-five years he served as coordinator the Old-Time Music and Dance Week at the Swannanoa Gathering. Learn more about Phil at http://www.philjamison.com .
Additional Instructors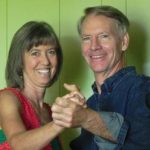 Jonanie and Steve Green (Fayetteville, AR) – Steve Green grew up on a hill country farm in the Arkansas Ozarks, a region well known for traditional music and dance. He has performed by invitation at festivals in Ireland and England, and danced professionally with Dance Theatre International of Arkansas. Over several years he has taught day and week-long flatfoot dance workshops at the Whitby Folk Festival and Towersey Festival in England and has taught and performed at the Ozark Folk Center at Mountain View since the early 1980's. He enjoys teaching dances that are fun to watch as well as fun to do.

Joanie Green performs and teaches from her home with Steve, surrounded by her family and friends. She is a regular teacher at the Ozark Folk Center, a cultural center for the traditional arts. She teaches  harmony ballad singing, old time couple dancing, including waltz, two-step, polka, schottische, and hambo.

Learn more about Steve and Joanie at www.ozarkfootsong.com
---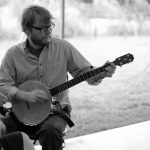 Tony Holmquist (Durango, CO) –Tony was born in San Francisco, California and raised in Omaha, Nebraska. He started playing guitar and banjo in his teens and purchased his first fiddle in the ozarks when he was twenty-five years old. He currently lives in Durango, Colorado, where he plays fiddle in the Six Dollar String Band and is an Associate Professor of Art at Fort Lewis College.
---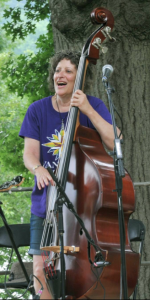 Barbara Rosner (Frankfort, KY) –Barbara is a bass fiddle player and vocalist from Frankfort Kentucky, moving there in early 2016 from California.  She plays bass with Kentucky Wild Horse (John Harrod and Tona Barkley), the Leestown String band, and performs occasionally with West Virginia's Long Point String Band, and Virginia's Reed Island Rounders.   Recent recordings include tracks on Jane Rothfield's Out of Thin Air, and Long Point String Band's 2016 CD release.