2011 Rocky Mountain Old-Time Music Festival
(2nd Annual | July 15-17, 2011)
2011 Festival Lineup
Chip Arnold (workshop instructor)
Chip is a well known picker in the old time, two finger style once prevalent in the Southern Appalachian mountains. He first learned from local old timers and later from renowned two finger stylist, Will Keys, who became a friend and mentor in the last years of his life, passing on much of his unique and beautiful style in the traditional monkey see, monkey do fashion. Chip loves to play and to bring others into the old time finger picking fold.
---
Dave Brown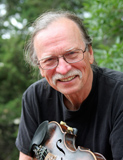 A long-time veteran of the Colorado old-time music scene, Dave Brown fiddled at the first community old time dances along the front range in the late seventies, and with a motley assortment of band mates he has been helping dancers get into the groove ever since. Since trading his last $50 for his first fiddle while bumming around New Orleans in 1972, Dave has been dedicated to ferreting out the secrets of the old-time fiddling craft.
Over the years, Dave has played with many bands, performing all around Colorado and occasionally further afield. He tries to make it back East regularly particularly to the string band festival at Clifftop to keep in touch with the geographical heart of the old-time sound, but he also appreciates the authenticity of its evolving expression here in Colorado. Although there's no doubt he enjoys performing, for Dave the essence of the old-time experience is found in a living room, a back yard, or a festival campsite jamming with long time friends or new acquaintances. From these encounters emerge the musical peaks along with an occasional revelation.
---
Jason Dilg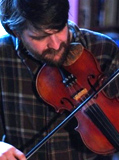 Jason Dilg is a respected interpreter of Appalachian dance tunes and ballads. He played banjo in the winning band in the traditional band contest at the Appalachian String Band Festival in Clifttop W.V. in 2009; he took first in banjo and third in fiddle the Fiddles and Folklife Festival at Warren Wilson College in the spring of 2005; and played guitar behind fiddler David Bass in the first-place old time band at the Tazewell County Fiddlers Convention in the summer of 2006.
---
Hoofin' High Country Cloggers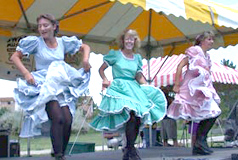 High hoofin' and high energy–that's what characterizes a performance by the Hoofin' High Country Cloggers from Denver, Colorado. Founded in February 1979, this fantastic group performs all across the country at festivals and private events, including conventions, weddings, and other gatherings.
Hoofin' HighNative to the Appalachian region, this traditional American folk dance form is also known as buckdancing, flatfooting, or hoedown dancing. Combining influences from Scottish flings, Irish jigs, German polkas, and dances of the African and Native Americans, the basic shuffle-step, shuffle-step rhythms of the dance are accompanied by live and lively rolling old-time string band or bluegrass music with its fiddles, banjos, dulcimers, mandolins, guitars, and bull fiddles.
The Hoofin' High Country Cloggers are enthusiastically devoted to the development of new steps, rhythms, and patterns. Routines vary from intricate four-person dances to spectacular six- and eight-person dances. All members contribute to choreography and the result is an exciting mixture of movements and steps displaying the great talent and variety of styles within the group.
A basic love for dancing and an intense desire to share and preserve our cultural heritage, combined with incredible energy and physical dexterity, is the keystone of this well knit group of dedicated performers. The Hoofin' High Country Cloggers provide truly delightful entertainment wherever they perform. It is, indeed, a foot-stompin', hand-clappin', loud-shoutin', fast-dancin' fun time! Hoofin' High!
---
Chris Kermiet – dance caller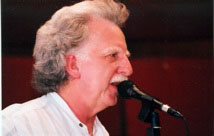 Chris Kermiet has been dancing since he could walk. His father was a square dance caller, and some of his earliest memories are of the dances in the old Grange Hall on Lookout Mountain (outside of Golden, CO). Having called now for over 35 years, Chris calls squares, contras, Appalachian big circle dances, English Country Dances, and celtic ceilidhs. He was recently celebrated as a "Living Legend of Dance in Colorado" by the Carson-Brierly Dance Library at the University of Denver.
---
Jim and Kim Lansford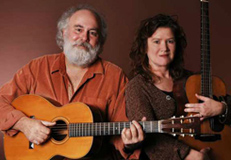 Jim and Kim Lansford live on a small farm in the Ozarks of southwest Missouri near Galena, in Stone County. Since 1980 they have performed together at festivals, concerts, workshops and dances across the country. Jim and Kim's performances feature an abundance of primal and powerful early country duet singing along with elegant, often understated instrumental accompaniment. The Lansfords have also long been devoted to the continual pursuit of expanding their unique repertoire of little-known songs and fiddle tunes gathered both from published and unpublished collections and recordings of traditional music from the Ozarks, Midwest and South.
Learn more about the Jim and Kim Lansford and their music by visiting www.kimandjim.com.
---
Nine Dollar Shawl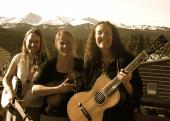 Nine Dollar Shawl is a Colorado old-time band that plays from Salida to Fort Collins. The all-gal group frequents dance halls and farmers' markets, mountain lodges and music festivals. Led by Andrea Earley-Coen's accomplished fiddling, Nine Dollar Shawl also features Ellen Rosenberg's hard-driving rhythm guitar and Lori Nitzel's sprightly banjo playing.
---
The Soda Rock Ramblers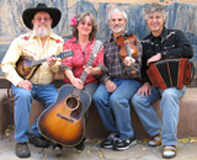 The Soda Rock Ramblers are three friends and musicians united by their love of traditional music. Linda Askew, Larry Edelman, and Scott Mathis delight dancers and listeners alike with their unique blend of spirited music featuring old-time American fiddle tunes from the South and Midwest and the haunting melodies from the Southwest, including Mexican tunes, music of the Rio Grande (Northern New Mexico and Southern Colorado), and the beautiful and rare Gu-achi tunes from Arizona. Rounding out their repertoire are ragtime pieces and music from other parts of the world. Among them they play fiddle, mandolin, guitar, mandola, octave mandolin, banjo-mandolin, and banjo-uke. Well known to dancers in Colorado's Front Range the SRR have appeared at square and contra dances, community dances, Spanish Colonial Dances. Their concerts provide a wonderful opportunity to hear their lovely mandolin harmonies and learn more about the music of the Soda Rock Ramblers.
Linda Askew grew up listening and dancing to the music of West Texas. She got her first guitar in high school. She really learned to play while hanging out in Alamosa, Colorado with some other musicians during the summer of 1989. She hasn't put it down since. She's become a master at playing rhythm guitar for Southern old time dance tunes, Cajun dance melodies, and the irregular rhythms of Gu-achi fiddle styles and Mexican music. She has performed with the Sandia Hots, the Soda Rock Ramblers, the Lost Woody Band, the Cicada's, the Pasta Tones, and the Tune Junkies and has recorded and toured with Bayou Seco since 1989.
Larry Edelman has been playing traditional music for 30 years and has traveled throughout the U.S. and Europe playing, teaching, and calling for traditional dancing. He currently plays fiddle, mandolin, and guitar with The Percolators as well as the Soda Rock Ramblers. Larry has taught at dozens of music and dance camps and festivals including the Festival of American Fiddle Tunes, Ashokan, Augusta, Pinewoods, Lady of the Lake, and many more. He appears on recordings on the Wildebeest, Kicking Mule, and Piggysnout labels. Larry is also a masterful dance caller, teacher, and dance researcher and has traveled throughout the United States and Europe, playing and calling, delighting dancers with his humor, enthusiasm, unique repertoire, skillful teaching, and knowledge of dance history.
Scott Mathis, a veteran of 1960's rock and roll, has become a crusader for traditional music and dance. Playing the full range of the mandolin family of instruments and the guitarron, Scott's focus has been on music from the great Southwestern USA, Mexico, France, and Italy. Scott is a member of such bands as Bayou Seco, Sandia Hots, Soda Rock Ramblers, Love Buzzards, Virginia Creepers and Lost Woody.
---
Rafe and Clelia Stefanini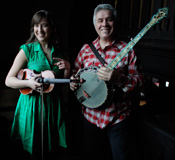 Rafe Stefanini needs no introduction to old-time audiences and musicians. He was born in Italy, and has lived in the US since 1983. His love for Old Time music brought him here first as a visitor in the late 70s, then as a permanent resident. Since then he has established himself as one of the finest interpreters of fiddle music from the South. His dynamic and elegant fiddle and banjo playing was featured in some of the best bands to appear on the scene. Rafe is on the teaching staff at the Ashokan Fiddle and Dance Camp, where The Jenkins met him many summers ago.
Clelia Stefanini is following in her father's footsteps with skills on the fiddle and guitar far exceeding her age of 17, with a style solidly grounded in the older tradition.
Together, the duo presents an entertaining show that includes rousing fiddle duets, old time ballads, songs and banjo tunes. Their new CD "NEVER SEEN THE LIKE…" will be available at the festival.
---
The Virginia Dale Polecats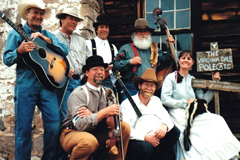 The Polecats are a traditional American String Band that has been playing together for the past decade and a half. In that time they have played at dances, historical museums, ice cream socials, stage coach stations, weddings, wakes and other undertakings. Their original homes range from the mountains of upstate New York to the river regions of Kentucky and Missouri to the tall peaks of Colorado. The band's repertoire of old-time fiddle tunes, mournful country songs, gospel and lovesick blues blend into a spirited performance that makes you want to tap your toes, dance with your sweetie, holler with buddy and carry on in ways that might surprise you.