2016 Rocky Mountain Old-Time Music Festival
(7th Annual | July 6-10, 2016)
2016 Lineup:
Performers for the 2016 Rocky Mountain Old-Time Music Festival are as follows:
Foghorn Stringband (Caleb Klauder, Reeb Willms, Nadine Landry, and Stephen "Sammy" Lind)
Erynn Marshall & Carl Jones
Spencer & Rains (Tricia Spencer & Howard Rains)
Red Squirrel Chasers (Jim Nelson, Stephanie Coleman, Jim Collier, Dedo Norris)
Bootlickers (Lee Guthrie, AJ Srubas, Aron Tacke, Arne Pelto, Rina Rossi)
Vesta Johnson & Steve Hall
Unfortunately H.K. Silvey was unable to make it the year. We hope to bring him back in 2017!
Foghorn Stringband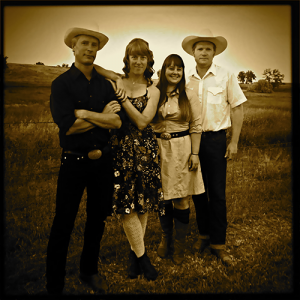 Hard Hittin' Rural American Music… Credited for igniting the Old Time Renaissance in Northwest, Foghorn Stringband continues to stand out as the shining gold standard for American Stringband music. With their 8th album, Devil in the Seat in hand, thousands of shows and over a decade of touring under their belts, it's no surprise that this band, as proclaimed by Stuart Mason, The Fiddle Freak, "has blossomed into a full-blown force of nature that threatens world domination". Through all of this, they've never let the music grow cold; instead Foghorn has been steadily proving that American Roots music is a never-ending well of inspiration.
Today Foghorn Stringband features the intertwining harmonies of founding members, Stephen "Sammy" Lind, Caleb Klauder along with powerhouse vocalists, Reeb Willms and Nadine Landry, all of whom bring a wealth of songs, instruments and traditions making them a festival favorite from coast to coast and around the globe.
Visit Foghorn Stringband online: Artist Website | Promoter Website

Video Links:
https://www.youtube.com/watch?v=mHNmW-GYv6A
https://www.youtube.com/watch?v=roDzuen_9rM
https://www.youtube.com/watch?v=32N2bqZOPBY
---
Erynn Marshall and Carl Jones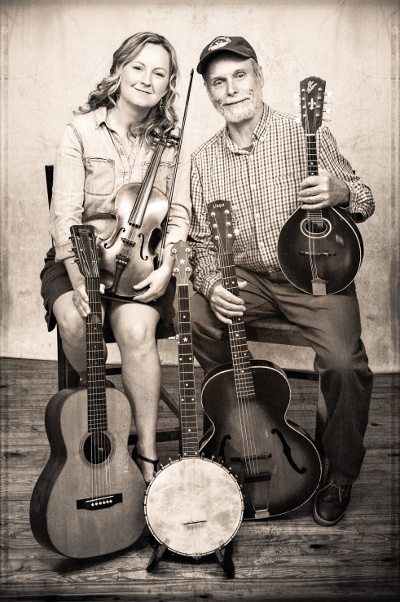 Erynn Marshall and Carl Jones are old-time musicians and inspired tunesmiths who live in Galax, Virginia. They are married – in life and music. Southern song-duets and powerful fiddle, guitar, mandolin, banjo tunes comprise their diverse sets. They play with ease, spontaneity and vitality. While rooted in the traditional sounds of older players, this duo stays true to their own muse by playing very old or composing new, tradition-rooted music. Carl and Erynn's original tunes and songs are played by many musicians play around the world and Carl's song, Last Time on the Road was featured on the grammy-award winning album "Unleashed" by the Nashville Bluegrass Band. Instrumentally, Marshall and Jones have won many awards for their playing including Erynn's 1st place fiddle win at Clifftop and Carl's 3rd place fingerpicking-guitar win at Winfield – both premier festivals in the United States. In the last year Marshall and Jones performed in 25 states, Canada, England, Wales, Ireland and Scotland. In 2015 they released a duet CD called Sweet memories… never leave. For more information on these traditional artists please visit www.dittyville.com
Erynn Marshall has carved out a niche for herself as an old-time fiddler in North America and abroad. She has played for thirty-five years, performed and taught at many music camps in the US, Canada and Europe. Erynn learned the nuances of old-time fiddling from visiting 80-95 year-old southern fiddlers and singers for many years. Her fieldwork culminated in the book, Music in the Air Somewhere about West Virginia fiddle and song traditions (WVU Press). Erynn has also appeared in three films, recorded a DVD and five CDs including Sweet Memories Never Leave – a 2015 duet release with Carl Jones. She has won many awards including first place in fiddle at "Clifftop" – The Appalachian Stringband Festival –  in West Virginia (the first woman and person from outside the US to do so). Erynn lives in Galax, Virginia, tours with Carl Jones and the Bowbenders stringband. For more info please visit: www.dittyville.com
Carl Jones is an American songwriter and multi-instrumentalist. He is widely respected for his instrumental talents and original songs about the joys and tribulations of day-to-day life in the South. Carl's songs have been recorded by The Nashville Bluegrass Band, Kate Campbell, Rickie Simpkins with Tony Rice, and others. His song Last Time On The Road was on the grammy-award-winning album Unleased by the Nashville Bluegrass Band. Originally born in Macon, Georgia, Carl currently lives in Galax, Virginia with wife and musical partner – fiddler, Erynn Marshall. In the 1980's he played mandolin with James Bryan, Norman and Nancy Blake as part of the Rising Fawn String Ensemble and during the same period won 3rd place and a guitar in the fingerpick-guitar category at Winfield, KS. Carl has recorded many CD's including Traveling Star featuring his original songs and a 2015 duet album Sweet Memories Never Leave with Marshall which has received great reviews. Carl is known for his fine musicianship on many stringed instruments, keen sense of humor, evocative songwriting, and as a charismatic teacher. Carl has performed or taught all over the United States, Canada and Europe. For more information please visit: www.dittyville.com
Video Links: 
Official video: Tune Tramp – Erynn Marshall & Carl Jones
https://youtu.be/AcBeopkCJsw
Official video: Maple on the Hill – Erynn Marshall & Carl Jones
https://youtu.be/RCEeo28J_bI
---
Spencer & Rains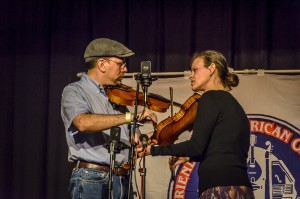 Spencer & Rains play old time music. Tricia Spencer is a Kansas fiddler who grew up learning the tradition of old-time music from her Grandparents as well as some of the great masters of Midwest fiddling. Howard Rains is a native Texas artist and fiddler. The New York Times has called Howard "an authority on old Texas-style fiddling." Their releases "The Old Texas Fiddle Volumes I & II" reintroduce listeners to the pre-swing and pre-contest styles of Texas fiddling.
Together, Spencer & Rains sing old songs and play the old fiddle music of their respective regions.
---
Red Squirrel Chasers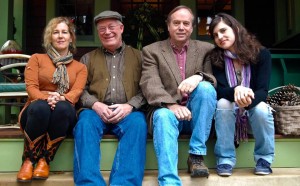 The Red Squirrel Chasers are an old-time string band made up of four individuals with diverse musical influences and interests that seamlessly merge into a new, but also familiar sound. They had been playing dances together for nearly ten years when they decided to focus on a shared interest in the string band styles that occupy that hazy musical boundary between the old-time bands of the 1920s and the bluegrass sounds that emerged in the 1940s. Don't get us wrong, we love the banjo but having a banjo would change our sound that we saw as unique so we chose to keep with the spare melody lines, blended instrumental texture and streamlined sound. Together the Red Squirrel Chasers combine red hot fiddling, tight harmony singing, great material and a powerful band sound that skips along and soars effortlessly.
Videos: https://www.youtube.com/channel/UCFP6pMN1wrmLDOYeVUWn4cQ
---
The Bootlickers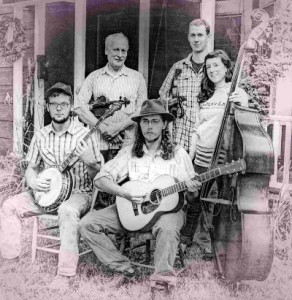 The Bootlickers are a Minneapolis-based old-time string band. They play tunes and songs from various regions of the country, including the Midwest. The Boots are AJ Srubas and Lee Guthrie on fiddles, Aaron Tacke on banjo, Arne Pelto on guitar, and Rina Rossi on bass and dance calls. Members of the Boots have played dances and concerts from coast to coast and play regularly around Minnesota, including the Monday Night Square Dance in Minneapolis.  They are excited to have finished their first CD, Bust Down, in winter 2015.
---
Vesta Johnson and Steve Hall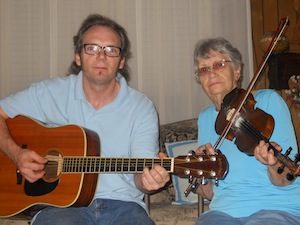 Vesta J. Johnson was born May 10, 1922 and the oldest of three children. Both her parents and various uncles and cousins were musicians and jig dancers, playing for numerous house parties and dances in the area. Vesta learned to play around age seven in the middle of a big feather bed for the safety of the fiddle. "Golden Slippers" was her first tune, learned from her mother's cousin, a three-fingered fiddler. She learned to note like he did using only three fingers – According to Vesta, that's why she's only a three fingered fiddler today.
Vesta's style is straight forward, often sparse, sometimes bluesy, and exceptionally danceable. When she has a floor of dancers before her, she really kicks into a tune and drives things along. Those wishing to learn her tunes will welcome her relaxed playing pace, while hearing each note and bow stroke with clarity! Your toes will tap along and feel the dancing just waiting to happen in your feet.
Vesta was influenced by a number of players in north and west Missouri and adjacent areas: Ed Doughtery, Cyril Stinnet and his nephew Pete, Dwight Lamb, and her own family. Her favorite was Ozark fiddler Lee Stoneking, although she did not get to hear enough of him for her liking.
Stephen B. Hall, Vesta's grandson, was born in 1966. He started learning to play guitar at age 7, in Vesta's Dining room; from there he was taken to various festivals and old-time jam sessions where he honed his skills backing up some of the great Missouri fiddlers. At age 14, he took a few fiddle albums home from Vesta's and began to teach himself how to fiddle. Playing in his first contest at 15, he found out real soon that he was more of a dance fiddler and not a contest fiddler.
Today, Steve is a fine multi-instrumentalist playing bass with the same classic rock/country band since 1985 (Home Grown Classics Band), playing Fiddle for dances with Dave Landreth and Andrew Gribble in Echo Valley Stringband, or guitar for the elusive Panther Creek Stringband with Hugh Strawn and Liz Amos. Some of his influences include Art Galabraith, Bob Holt, Pete McMahan, Taylor McBaine, and of course his grandmother, Vesta.
Vesta says she is indebted to Steve, who has encouraged her to keep playing by always being there with his guitar. Together, their tunes have inspired many. Both teach in their spare time in the St. Louis and Jefferson County area of Missouri.
You will enjoy both Vesta and Steve, their style and great tunes, from Missouri, definitely!
---
H.K. Silvey
Photo credit Jeremy Myers. Bio courtesy of Deborah Bailey of the MO Folk Arts Program.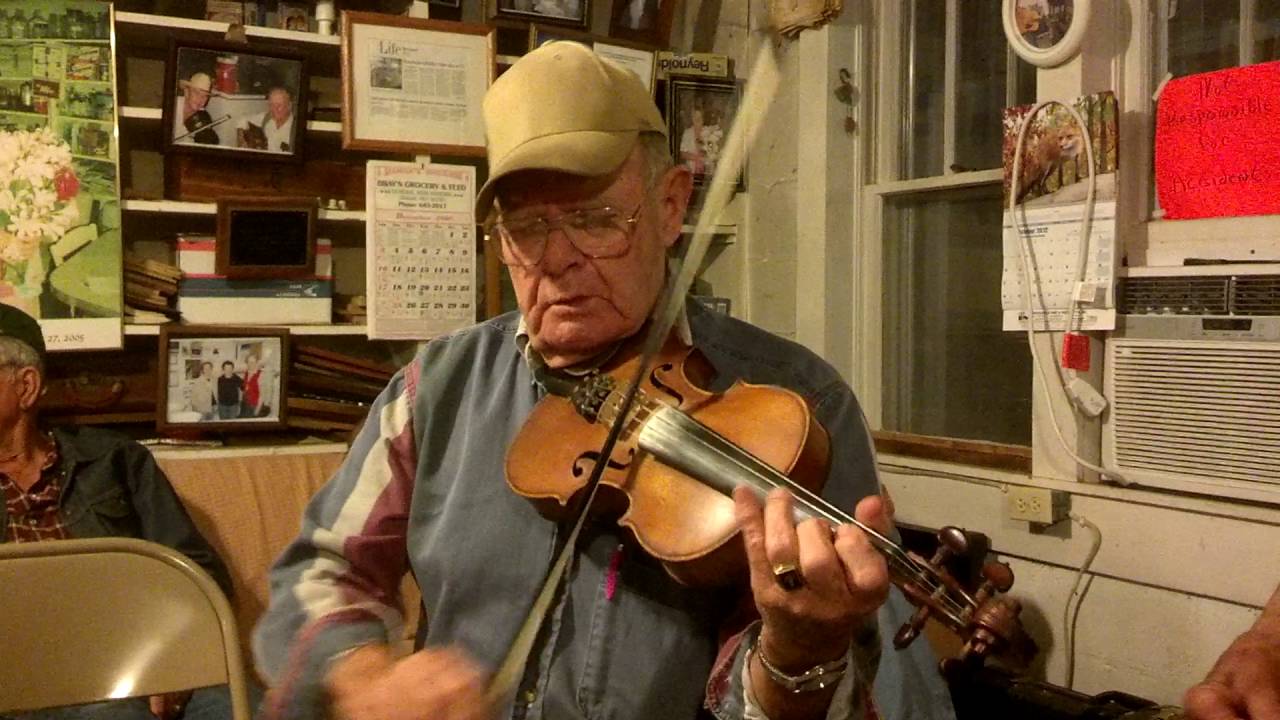 H.K. Silvey was born and raised Long Run, MO in the southwestern Ozarks. Raised in a family and community of old-time musicians, singers and jig dances, he has played fiddle for over 70 years. In 1953, Mr. Silvey left the Ozarks in search of steady employment. Living and working in Kansas, Colorado, New Mexico, and Louisiana, he played square dances, fiddlers conventions, contests, in numerous country bands at night clubs and jamborees, always picking up new tunes. Since returning home in 1973 he has played regally at the Ava square dances along with fiddler Bob Holt and was the featured square dance fiddler at the Gainesville Hootin' and Hollerin' festival for 18 years. He remains a mainstay at the now 50 year old McClurg old-time fiddle jam. He will be accompanied by Jim Nelson of the red Squirrel Chasers.
---
Dance Callers
Larry Edelman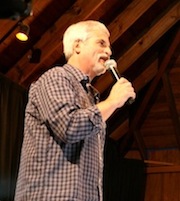 Larry Edelman has been playing for and calling dances for 40 years. He plays fiddle, guitar and mandolin in several bands, including the Soda Rock Ramblers, the Percolators, and right here in Colorado, the Prairie Chickens. A renowned dance caller and teacher Larry has traveled widely throughout the United States and in Europe, delighting both novice and veteran dancers with his humor, enthusiasm, skillful teaching, knowledge of dance history, and colorful calling. Larry is an avid dance researcher and during the 1980's while collecting traditional square dances in southwestern Pennsylvania, he was awarded a Fellowship in Folk Arts from the Pennsylvania Council on the Arts to study with elder caller Jerry Goodwin, and produced the movie Dance to the Music and Listen to the Calls that documented the apprenticeship (https://youtu.be/aOwwh7YqEmg). As a video producer, Larry has produced dozens of videos of traditional music and dance (https://www.youtube.com/user/Sparky0804/featured). He has trained scores of square dance callers who have attended his acclaimed square dance calling workshops and is a consultant to the Square Dance History Project (http://squaredancehistory.org)
---
Chris Kermiet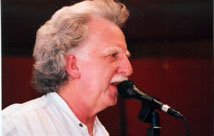 Chris Kermiet has been dancing since he could walk. His father was a square dance caller, and some of his earliest memories are of the dances in the old Grange Hall on Lookout Mountain (outside of Golden, CO). Having called now for over 35 years, Chris calls squares, contras, Appalachian big circle dances, English Country Dances, and celtic ceilidhs. He was recently celebrated as a "Living Legend of Dance in Colorado" by the Carson-Brierly Dance Library at the University of Denver.
---
Rina Rossi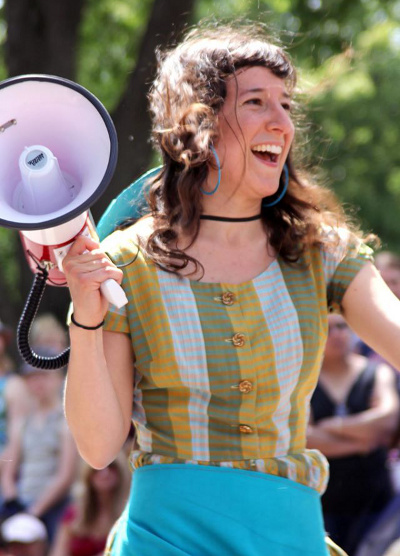 Rina first learned to call square dances in 2010 when a group of Minneapolis/St.Paul callers began hosting "caller nights," essentially house parties where people could learn to call. With 7 years of experience as a dancer with the Wild Goose Chase Cloggers, she took to calling quickly and began calling square and barn dances around Minnesota. Since then she's had the honor of calling at the DC Square Dance, the Berkeley Old Time Music Convention, the Hiawatha Music Festival, The Monday Night Square Dance, and countless community barn dances from small town Wisconsin all the way to Germany. Besides dance calling, she also plays fiddle and bass and has taught numerous clogging classes and workshops.
---
Patricia Danscen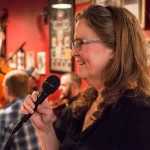 Patricia Danscen's energetic calling and clear, concise teaching has delighted dancers of all ages and levels of experience for 20+ years. She has called dances and taught workshops in Colorado and several other states. In addition to calling, Patricia plays double bass and guitar and performed with a clogging troupe for 12 years. She delights in seeing seas of smiling faces twirling and whirling on the dance floor as she shares her passion for dance and music.
---
Other Instructors
Tony Holmquist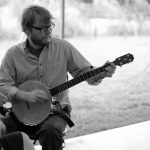 Tony Holmquist was born in San Francisco, California and raised in Omaha, Nebraska. He started playing guitar and banjo in his teens and purchased his first fiddle in the ozarks when he was twenty-five years old. He currently lives in Durango, Colorado, where he plays fiddle in the Six Dollar String Band and is an Associate Professor of Art at Fort Lewis College.
---
Amanda Jokerst
---