9th Annual Rocky Mountain Old-Time Music Festival – July 11-15, 2018
Join us at the Parrish Ranch for the 9th Annual Rocky Mountain Old Time Music Festival! July 11-15, 2018.
Sponsorship Opportunities:
We need YOU! Please consider becoming a sponsor of our festival. Please visit our Sponsorship Opportunities page to learn more about sponsorship levels and benefits. Any amount is welcome! All donations are tax deductible. Use the DONATE button below to become a sponsor:
About the Fest: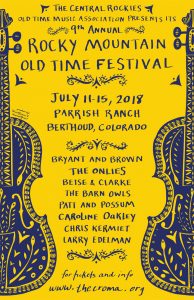 This summer, come on out for the Central Rockies' only old-time music festival! The 9th annual Rocky Mountain Old-Time Music Festival will be held at Parrish Ranch near Berthoud, CO on July 11-15, 2018. The festival will showcase traditional forms of fiddle and banjo-focused music with performances, workshops, and dance.
Our location, Parrish Ranch, is a working cattle ranch located along the Little Thompson River in Berthoud, Colorado. On-site camping, RV hookups, tons of jamming space and the necessary festival amenities will be available. It's the perfect place for an old-time music festival, with a lovely old barn for square dancing (one of Colorado's best early square dance venues, in fact!)
Please join us for our 9th annual festival! See below for camping info, schedules, and everything else you need to make your plans. Check back often for updates and we hope to see you in July!
Festival Schedule:
Preliminary festival schedule coming soon!
2018 Lineup Includes:
Workshops:
We have well over 20 workshops that take place Thursday – Saturday. Topics include instruction in fiddle, banjo, guitar, mandolin, bass, vocal, flatfooting, and couples dancing.
Check back for preliminary schedule.
Kids' Program:
This year we are stepping up our kids program full of activities, music based workshops, and fun games. Creative projects will run during open hours along scheduled workshops and activities. Workshops include basic instruction in flatfooting, fiddle, banjo, guitar, and harmony singing with plenty of practice time set aside for the Kids' Open Stage on Saturday.
A chaperone is required on the festival grounds for each child under 16 attending any of the Kids' Program workshops. Free admission to the festival for kids under 16 accompanied by an adult who has purchased a festival ticket. A reduced rate chaperone ticket will be available at the gate for chaperones and children who are only attending Kids' Program activities.
Check back for preliminary kids program schedule.
Tickets:
Ticket prices range from $10.00 for any one evening dance to $140.00 for a Wednesday to Sunday pass. Senior discount available. Brown Paper Ticket fees apply. Prices increase at the gate so get em early.
Buy tickets for 2018 Rocky Mountain Old-Time Music Festival
Volunteer Opportunities:
VOLUNTEERS ARE NEEDED! Work one shift in exchange for same-day pass and camping for that night. Sign up here.
Camping info:
Parrish Ranch has large, grassy areas available for tent camping, and 15 RV/camper sites with hookups (water and 30-amp electric; no sewer or dump station). Sites are not assigned and are first come, first serve. Other areas are available for self contained units if needed. There is plenty of areas for tent camping. Parking is very close and gear can either be dropped off or carried in (wheelbarrows available) to the tent camping area. Showers are available.
Sorry, NO DOGS, NO BIKES, and NO OPEN FIRES allowed (camp stoves OK). Also no darts, throwing knives, or other sharp objects or activities that could inflict injuries to others around you.
**No sleeping in ranch buildings at any time!**
Camping Gear Rental:
Are you coming in from out of state and need to rent some camping gear? Check out OutdoorsGeek, where you can rent camping gear for the festival and leave your travel worries behind.
RV Rental:
Do you really want to attend the festival but just aren't excited about sleeping on the ground? Check out rvshare.com/rv-rental and search Berthoud, CO. Find an RV owner who'd be willing to delivery and pick up from Parrish Ranch so all you have to do is show up. Your contract is between you and rvshare and is in no way affiliated with CROMA, Parrish Ranch, or the Festival.
Food and Drink info:
No food vendors will be on site Wednesday.
Wednesday evening at 6:30pm is our annual potluck. Please bring a dish to share. BYO drinks, plate and utensils.
Thursday Food Truck TBD.
Friday Food Truck Sweaty Moose.
Saturday Food Truck Austin Taco.
Sunday – the third annual pancake breakfast to benefit CROMA from 8am-10am.
Coffee, sweet treats, breakfast burritos, will have ice available on Thursday and Friday from 7:00-11:00am and 2:00-8:00pm.
***BYO drinks***
Cash will be the only method of payment available for the food vendors. Please note that there are no ATMs on site!
Things to know about the Ranch:
For some history about the Ranch and its square dancing past, read this great story by local caller Chris Kermiet!
*No wi-fi and cell phone reception is spotty.
*Stuff to bring: your own chairs for relaxing, jamming, and watching performances; a potluck dish; pie for the contest if you like; your own water containers/bottles, cups and table settings for the weekend. There is plenty of shade available in the interior of the campground, but since the flood shade along the river is now sparse so bring a shade canopy or tarp if you plan to camp right along the river. Do bring some bug repellent/citronella just in case.
There is excellent road and mountain biking nearby, but no biking is allowed at the Ranch.
No fishing, pets, or fireworks.
There is plenty of water available for drinking, washing dishes, etc.
PLEASE USE EXTREME CAUTION IN AND AROUND THE RIVER DUE TO 2013 FLOOD DEBRIS!
Please email us if you have any other questions!
Directions:
Please take a look at our DIRECTIONS page and don't rely on your GPS – it will get you lost.
Fun Stuff: Cakewalk | Open Stage
Cakewalk: We'll have another cakewalk this year during the Saturday square dance, so bring some extra cash! Entries are cash donation (Donate as much as you'd like!). Yum!
Open Stage: Join in of the fun. Details for signing up at the gate.
Merchandise:
Please help support the festival and our amazing artists by purchasing items for yourself, family and friends at the CROMA merchandise tent. We will accept cash, credit cards, and personal checks.
Additionally, we expect several instrument vendors this year – stay tuned.
2018 Sponsors:
A big thanks goes out to our festival sponsors! We are actively looking to increase our sponsorship. If interested, please check out our sponsorship levels information, and please contact us to become a festival sponsor!
---
Title Sponsor:

---
Co-Sponsors:
coming soon
Private Co-Sponsors:
The New Pleasant Valley Ramblers and volunteers of the Fort Collins Barn Dance
---
Platinum Sponsors:
coming soon
---
Gold Sponsors:
coming soon
---
Silver Sponsors:
coming soon
---
Festival Friends:
coming soon
---
2019 Performers:
***INTERESTED IN PERFORMING AT OUR 2019 FESTIVAL? Please send us an electronic or hard copy of your press kit or a sample of your music by September 1st, 2018.***

Electronic Submissions: email us
Hard Copy Submissions:
Central Rockies Old-Time Music Association
P.O. Box 662
Fort Collins, CO 80522