2018 Rocky Mountain Old-Time Music Festival
(9th Annual | July 11-15, 2018)
2018 Lineup:
Performers for the 2018 Rocky Mountain Old-Time Music Festival are as follows:
Bryant and Brown
The Onlies
Betse & Clarke
The Barn Owls
Patt and Possum
Caroline Oakley
Chris Kermiet
Larry Edelman
Performers
Bryant and Brown (TN & NC)
Mike Bryant began playing fiddle over 40 years ago after hearing it as a dancer on a clogging team.  Along with his wife Marcia, he played for 20 years with the New Dixie Entertainers, winning numerous blue ribbons at competitions in the southeast including several first place awards at the Appalachian String Band Music Festival in Clifftop, West Virginia. Mike teaches fiddle in the Knoxville, Tennessee area and has taught at music camps around the southeast. Photo credit Joseph Dejarnette.
Marcia Bryant began playing old-time bass over 40 years ago, and guitar about 30 years ago to accompany her husband, Mike. She's respected for her solid backup skills on both instruments and her knowledge of Mike's repertoire. Photo credit Joseph Dejarnette.
Paul Brown started playing banjo as a child to accompany the old Virginia songs he'd been learning from his mother. He's a multiple first place winner on banjo at the Appalachian String Band Music Festival, a senior fiddle winner, and was named a master artist there. Paul has devoted much of his life to documenting and learning from senior Appalachian musicians. He's a retired NPR journalist who now hosts the Across the Blue Ridge public radio show, featuring Appalachian music and its connections to other music and various cultures. Learn more about Paul at his website. Photo credit Joseph Dejarnette.
The Onlies with Viv Leva (Seattle, WA & Lexington, VA)

The Onlies play original and traditional fiddle-driven music, with Celtic, old-time American, and Canadian roots. Members Leo Shannon, Riley Calcagno, and Sami Braman are Garfield High School (Seattle) seniors who've literally played together since they were two years old. Singing and playing fiddle, guitar, mandolin, banjo, and piano, they have developed a strong fan base throughout the Pacific Northwest, performing concerts, dances, restaurants, and pubs from Port Townsend to Boston and placed 1st in the the highly acclaimed Clifftop NeoTrad competition in 2017.  They will be joined by Vivian Leva this year at CROMA. Learn more about  The Onlies and Vivian Leva by visiting thier websites.
Betse & Clarke (Kansas City, MO)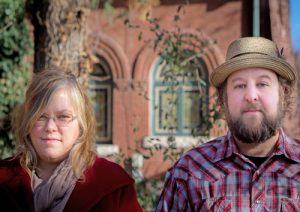 Explorers of Ozark Music: Betse Ellis & Clarke Wyatt formed their duo in the fall of 2014, after meeting and realizing a shared love of deep sources of traditional southern mountain music, along with the draw to create new music. In 2015, the duo was an official showcase act at Folk Alliance International Conference, and began their adventures on the road, touring in the Pacific Northwest and parts of the western States, including the Montana Fiddle Camp and the Portland Old Time Music Gathering. Their expedition continued in 2016 with more festivals and camps, including Grand Targhee Bluegrass Festival, and a late summer tour in Ireland. 2017 appearances included Folk Alliance International Conference (as official selected showcase artists, and music camp instructors), the John Hartford Memorial Festival, The Walnut Valley Music Festival (Winfield), and new projects from recording to documentary work. Learn more about Betse & Clarke by visiting their website.
The Barn Owls (Seattle, WA)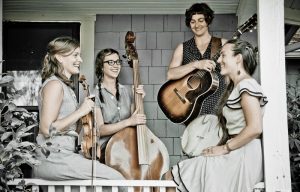 The Barn Owls are an old-timey, country trio from Seattle. One late summer evening, Brittany Newell, Hanna Traynham and Kate Lichtenstein spent hours trading tunes around the woodstove. By the end of the night, they were a band. The Barn Owls bring an intuitive and inventive bent to the old-time and early country music tradition, mixing high energy dance tunes with tight three-part harmonies on traditional and original songs. More recently, Katy Harris has joined the Barn Owls on upright bass. Her solid rhythm propels the band's sound into fantastic dance music and her voice exemplifies the multi-part harmonies that the Barn Owls love to sing! Learn more about the Barn Owls by visiting their website.
Patt and Possum (Chicago, IL)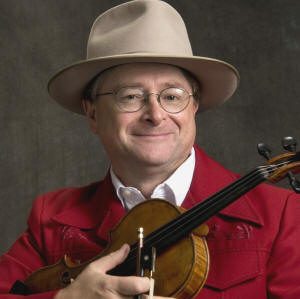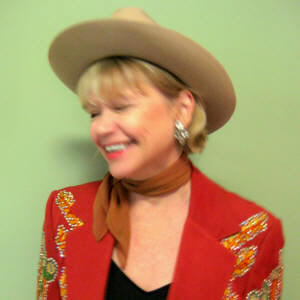 After twenty plus years of playing traditional music together Patt Plunkett and Charlie Walden (aka Patt & Possum) have learned a thing or two about getting along musically.  So while some couples might bicker about the bills or where to go out to eat, these two battle over chord progression and set lists.Charlie and Patt both grew up listening to and playing traditional mid-western fiddle music.  Charlie learned as a teenager at the feet of some of Missouri's finest old time fiddlers, including Pete McMahan, Taylor McBaine and Cyril Stinnett and was encouraged by countless others.  Along the way he developed an interested in Canadian fiddle tunes as the fiddling in the Ottawa Valley is similar in style and shares some common repertoire with Missouri.  As such,  other important influences through recordings were Graham Townsend, Don Messer and Ned Landry.  Learn more about Part and Possum by visiting their website.
Dance Callers
Larry Edelman (Denver, CO)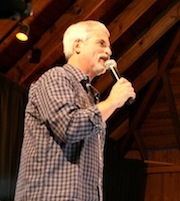 Larry Edelman has been playing, calling, and teaching for traditional dances for more than 35 years. He plays fiddle, guitar and mandolin in several bands, including the Soda Rock Ramblers, the Percolators, and right here in Colorado, the Prairie Chickens. A renowned dance caller and teacher Larry has traveled widely throughout the United States and in Europe, delighting both novice and veteran dancers with his humor, enthusiasm, skillful teaching, knowledge of dance history, and colorful calling. Larry is an avid dance researcher and during the 1980's while collecting traditional square dances in southwestern Pennsylvania, he was awarded a Fellowship in Folk Arts from the Pennsylvania Council on the Arts to study with elder caller Jerry Goodwin, and produced the movie Dance to the Music and Listen to the Calls that documented the apprenticeship. Larry also produced Yee Haw, a quirky and informative movie of how square dancing has been portrayed in historical, non-theatrical motion pictures. Larry has trained scores of square dance callers who have attended his acclaimed intensive square dance calling workshops.
Caroline Oakley (Portland, OR)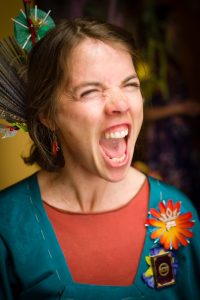 Caroline Oakley is a musician, dance caller, and community organizer who has been teaching and calling old-time community square dances for over a decade.  She calls regularly at many of the West-Coast's premier old-time and bluegrass music festivals.   Additionally, she enjoys fiddling, playing guitar, and singing old country songs.  Caroline lives in the town of Corbett, Oregon (just east of Portland) where she also teaches music to young families through Music Together, teaches community square dancing in area schools, is active reviving live music and dancing at the local grange hall, and raises three sons. Learn more about Caroline Oakley by visiting her website.
Chris Kermiet (Denver, CO)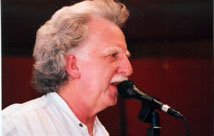 Chris Kermiet has been dancing since he could walk. His father was a square dance caller, and some of his earliest memories are of the dances in the old Grange Hall on Lookout Mountain (outside of Golden, CO). Having called now for over 35 years, Chris calls squares, contras, Appalachian big circle dances, English Country Dances, and celtic ceilidhs. He was recently celebrated as a "Living Legend of Dance in Colorado" by the Carson-Brierly Dance Library at the University of Denver.
Additional Instructors
Tony Holmquist (Durango, CO)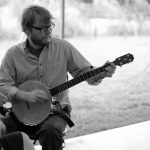 Tony Holmquist was born in San Francisco, California and raised in Omaha, Nebraska. He started playing guitar and banjo in his teens and purchased his first fiddle in the ozarks when he was twenty-five years old. He currently lives in Durango, Colorado, where he plays fiddle in the Six Dollar String Band and is an Associate Professor of Art at Fort Lewis College.
Jonanie and Steve Green (Fayetteville, AR)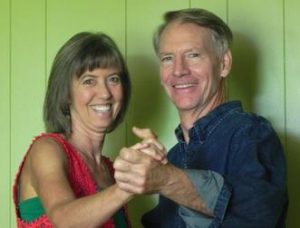 Steve Green grew up on a hill country farm in the Arkansas Ozarks, a region well known for traditional music and dance. He has performed by invitation at festivals in Ireland and England, and danced professionally with Dance Theatre International of Arkansas. Over several years he has taught day and week-long flatfoot dance workshops at the Whitby Folk Festival and Towersey Festival in England and has taught and performed at the Ozark Folk Center at Mountain Viewsince the early 1980's. He enjoys teaching dances that are fun to watch as well as fun to do.
Joanie Green performs and teaches from her home with Steve, surrounded by her family and friends. She is a regular teacher at the Ozark Folk Center, a cultural center for the traditional arts. She teaches  harmony ballad singing, old time couple dancing, including waltz, two-step, polka, schottische, and hambo.
Jack Beuthin (Golden, CO)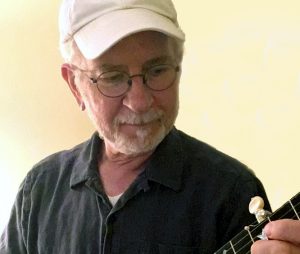 Jack Beuthin has been playing banjo since 1969. Although he dabbles in other styles, he is mostly a clawhammer player, and has been hooked on Old Time music since the early  '70s. A resident of Golden, Colorado, he is regular in many of the jams here in the Front Range and co-host of the Golden Old Time jam.  Jack also teaches clawhammer banjo, in part to give back to the living tradition, and in part to combine his passion for teaching (retired university professor) with his love for playing the banjo.