2012 Rocky Mountain Old-Time Music Festival
(3rd Annual | June 1-3, 2012)
2012 Festival Lineup
Vesta Johnson and Steve Hall (Missouri)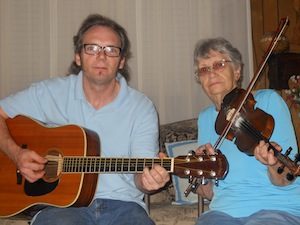 Vesta Johnson
Vesta J. Johnson was born May 10, 1922 and the oldest of three children. Both her parents and various uncles and cousins were musicians and jig dancers, playing for numerous house parties and dances in the area. Vesta learned to play around age seven in the middle of a big feather bed for the safety of the fiddle. "Golden Slippers" was her first tune, learned from her mother's cousin, a three-fingered fiddler. She learned to note like he did using only three fingers – According to Vesta, that's why she's only a three fingered fiddler today.
Vesta's style is straight forward, often sparse, sometimes bluesy, and exceptionally danceable. When she has a floor of dancers before her, she really kicks into a tune and drives things along. Those wishing to learn her tunes will welcome her relaxed playing pace, while hearing each note and bow stroke with clarity! Your toes will tap along and feel the dancing just waiting to happen in your feet.
Vesta was influenced by a number of players in north and west Missouri and adjacent areas: Ed Doughtery, Cyril Stinnet and his nephew Pete, Dwight Lamb, and her own family. Her favorite was Ozark fiddler Lee Stoneking, although she did not get to hear enough of him for her liking.
Stephen B. Hall, Vesta's grandson, was born in 1966. He started learning to play guitar at age 7, in Vesta's Dining room; from there he was taken to various festivals and old-time jam sessions where he honed his skills backing up some of the great Missouri fiddlers. At age 14, he took a few fiddle albums home from Vesta's and began to teach himself how to fiddle. Playing in his first contest at 15, he found out real soon that he was more of a dance fiddler and not a contest fiddler.
Today, Steve is a fine multi-instrumentalist playing bass with the same classic rock/country band since 1985 (Home Grown Classics Band), playing Fiddle for dances with Dave Landreth and Andrew Gribble in Echo Valley Stringband, or guitar for the elusive Panther Creek Stringband with Hugh Strawn and Liz Amos. Some of his influences include Art Galabraith, Bob Holt, Pete McMahan, Taylor McBaine, and of course his grandmother, Vesta.
Vesta says she is indebted to Steve, who has encouraged her to keep playing by always being there with his guitar. Together, their tunes have inspired many. Both teach in their spare time in the St. Louis and Jefferson County area of Missouri.
You will enjoy both Vesta and Steve, their style and great tunes, from Missouri, definitely!
---
Chirps Smith and Dave Landreth w/the New Bad Habits (Illinois/Missouri)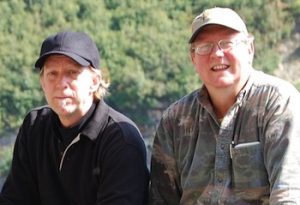 Chirps Smith and Dave Landreth
Lynn "Chirps" Smith has played fiddle for more than thirty-five years. He specializes in playing Midwestern dance tunes. Over the years he has played with the Indian Creek Delta Boys (with fiddler Garry Harrison), The Polecats (with fiddler Mark Gunther), and The Volo Bogtrotters. Current bands include dance bands the Little Egypt Pepsteppers and VigorTones, as well as his latest group, the New Bad Habits. Chirps has played square & contra dances for almost as long as he has played fiddle. Early on he cultivated a strong interest in Midwestern fiddle music- he is a lifelong resident of the Midwest (Illinois and now Wisconsin) after all. The Delta Boys searched out senior fiddlers in IL and collected & learned many fine old tunes. He has learned a lot from fiddlers in the surrounding states as well. He has taught classes at Augusta Heritage Workshops (Elkins, WV), the University of Wisconsin String-Along Weekend, the Festival of American Fiddle Tunes in Port Townsend, Washington, the Montana Fiddle Camp, Rocky Mountain Fiddle Camp, Blue Ridge Old-Time Week (Mars Hill, NC), and numerous weekend workshops at festivals and dance weekends across the country. In 1997 he was recognized as a master Illinois fiddler and awarded an Illinois Arts Council Apprenticeship Grant with teenager Stephanie Coleman (now an acclaimed fiddler in her own right). His love of playing dances has enabled him to develop a strong sense of rhythm and his love of Midwestern fiddling has enabled him to develop a fairly large repertory of familiar to obscure dance tunes.
"He has a light touch and infuses the numbers with a lot of spirit," Stacy Phillips, Strings magazine.
"Bill Monroe's Uncle Pen probably sounded a lot like Chirps," Jody Stecher, Old-Time Herald.
"For most of the last decade, Illinois native Chirps Smith has garnered a well-earned reputation in the old-time music community as one of the leading Midwestern fiddlers of his generation," John Lupton, Sing Out!
Dave Landreth, one of the most sought after banjo players in the Midwest has toured and taught old-time banjo for over three decades, as a solo performer and with several well known string bands including the Allen Street String band, the Combine, The Elderbullies, Farmertones, New Bad Habits, The Vigortones, Yellow Dog, and many more. He has appeared at festivals, dances, workshops and venues of all sizes, and all over the country. A renowned banjo teacher, he has done workshops at places such as the prestigious Augusta Heritage School in West Virginia. Currently he is teaching all levels of banjo at the St. Louis Folk School in St. Louis, Mo. He has his own website devoted to information, samples, and tablature for Midwestern Fiddle Tunes at www.banjoboysbrain.com.
Both have a rich body of recording projects together and individually.
---
East Mountain Serenaders w/Maddy Mullany (New Mexico)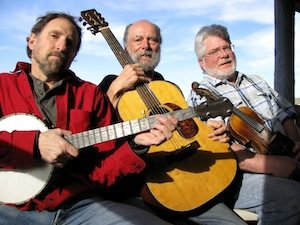 The East Mountain Serenaders, a hard-driving dance band from New Mexico's East Mountains, blend original and traditional old-time tunes to keep dancers moving. Jim Mullany, Rob Pine and Jerry Page, multi-instrumentalists all, have played fiddle, banjo, guitar, banjo-uke, mandolin and bass for a good chunk of their lives. For the past couple of decades, they have played in numerous bands and for countless dances in the Southwest. Jim and Rob have individually and jointly authored dozens of fiddle tunes, many of which are featured on Sweet Nell, the CD of New Mexican old-time fiddlers' original music. Several of their tunes have also been recorded by other bands around the country. Jerry, longtime musical compatriot and master vintage acoustic instrument repairman, owned and operated the renowned Prescott Folklore Centre in Arizona. Since moving to the East Mountains in 2005, Jerry continues to breathe new life into fine old instruments at his home-based repair shop, also an authorized Martin service center.
---
Firing Line (Lyons)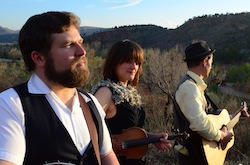 A trio started in Lyons, Colorado, Firing Line's members suffer from an undying, insatiable obsession with Old-Time music. The music is as true to the Appalachian tradition as you can find in the Rockies (we've been waiting for the East Coast to call and ask for its old-time music back).
The band's members all hail from various places within the US. Dusty Rider moved to Colorado from Anchorage, Alaska in August of 2011, where he was quickly snatched up as a banjo player by Gina, who moved to the area 2 years ago from Fredericksburg, Virginia. Kyle is the newest member of the Lyons community, as he was drawn away from the musical community of Ashville, NC.
---
Forty Degrees North (Lafayette)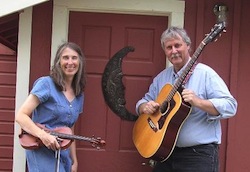 40 Degrees North is Anita Schuneman and Doug Rippey. Anita and Doug have been presenting concerts and programs to diverse audiences since 1978. They play a number of traditional Appalachian instruments, including fiddle, guitar, and banjo. They sing songs and share stories about this rich musical heritage, bringing late 19th and early 20th century United States regional history alive. Their informal and often humorous presentation makes them popular with all ages!
Anita has been playing Appalachian fiddle for over 30 years, beginning in the late 70s with Old Mother Logo, a California based all-woman string band. The tradition is in her blood, dating back to Uncle Will McLaughlin, who fiddled for community dances in southern Minnesota in the early 20th century.
Doug is a multi-instrumentalist who specializes in playing guitar and banjo in 40 Degrees North. He has toured nationally, appeared at the Newport Folk Festival with El Teatro Campesino, and has led numerous campfire singing sessions for all ages.
---
Still on the Hill (Western Slope)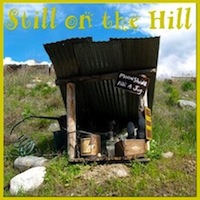 This band is a group of friends from around the Western Slope who all share a deep interest in old time and folk music. Given the Rocky Mountain weather we don't get out as much as we'd like, but are excited to have a band in this year's OT fest. Though we have all played music in different combinations around the area, the roots of this band come from many late night tune sessions at festivals and gatherings. We are looking forward to bringing some of the spontaneous energy that gives life to these tunes to the CROMA stage. Drawing from the tunes of North Carolina, Virginia and Kentucky, Still on the Hill plays driving old time you can get up and dance to. The band is made up of Dana Wilson on banjo, Tory Heinrich on bass, Sam Pankratz on guitar and Pierce Gresham on Fiddle. Coming from Carbondale, Glenwood Springs and Crested Butte, we are all happily "Still on the Hill."
---
Stolen Thyme (Colorado Springs)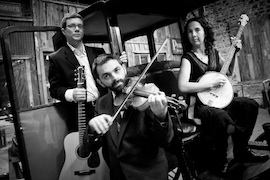 Stolen Thyme is a neo-traditional Old Time string band based in Colorado Springs, CO, made up of John Weathers (Guitar), Stacy Olitsky (Banjo), and Ben Lewis (Fiddle).
The music of Stolen Thyme celebrates the everlasting joys of life and explores the dark depths of human nature. The trio embraces the American folk music tradition and transforms it for a modern sensibility. The timeless truths and ancient melodies carried by the ballads and fiddle tunes of Appalachia and British Isles resonate in Weathers, Olitsky, and Lewis' hypnotic arrangements. Whether chilling the spine with a dusky ballad, entertaining with a meandering, golden melody or lighting the place on fire with a rip-roarin' barn-burner, Stolen Thyme always shares a transcendent, emotional musical experience with its audiences.
---
Larry Edelman – dance caller (Denver)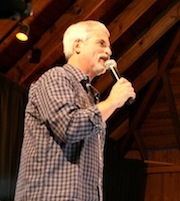 Larry Edelman has been playing, calling, and teaching for traditional dances for more than 35 years. He plays fiddle, guitar and mandolin in several bands, including the Soda Rock Ramblers, the Percolators, and right here in Colorado, the Prairie Chickens. A renowned dance caller and teacher Larry has traveled widely throughout the United States and in Europe, delighting both novice and veteran dancers with his humor, enthusiasm, skillful teaching, knowledge of dance history, and colorful calling. Larry is an avid dance researcher and during the 1980's while collecting traditional square dances in southwestern Pennsylvania, he was awarded a Fellowship in Folk Arts from the Pennsylvania Council on the Arts to study with elder caller Jerry Goodwin, and produced the movie Dance to the Music and Listen to the Calls that documented the apprenticeship. Larry also produced Yee Haw, a quirky and informative movie of how square dancing has been portrayed in historical, non-theatrical motion pictures. Larry has trained scores of square dance callers who have attended his acclaimed intensive square dance calling workshops.
---
Chris Kermiet – dance caller (Denver)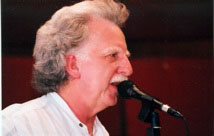 Chris Kermiet has been dancing since he could walk. His father was a square dance caller, and some of his earliest memories are of the dances in the old Grange Hall on Lookout Mountain (outside of Golden, CO). Having called now for over 35 years, Chris calls squares, contras, Appalachian big circle dances, English Country Dances, and celtic ceilidhs. He was recently celebrated as a "Living Legend of Dance in Colorado" by the Carson-Brierly Dance Library at the University of Denver.