2013 Rocky Mountain Old-Time Music Festival
(4th Annual | July 11-14, 2013)
2013 Festival Lineup
Dwight "Red" Lamb Dwight Lamb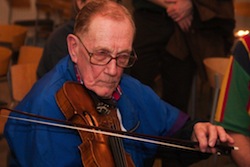 Dwight Lamb was born in Moorhead, IA, on May 16, 1934 to Clarence G. and Mary Lamb. Descendents of Danish immigrants, the Lamb family cherished the traditions of self-made music and entertainment. Dwight's grandfather, Chris Jerup, played traditional Danish melodies and American-style fiddle tunes on a single-row button accordion. His father, Clarence Lamb, played the fiddle. Dwight took to both these instruments and mastered them.
Dwight plays a style of fiddling often referred to as Missouri Valley Style. Also called "North Missouri Hornpipe Style", this manner playing and repertoire of tunes was both melodically complex and technically demanding. The greatest exponent of this style of playing was Uncle Bob Walters of Tekamah, Nebraska. Tekamah is located on the Missouri River and Dwight happened to live directly across the Big Muddy in Iowa. Dwight became a protégé of Walters and learned much of his vast repertoire of hornpipes, waltzes and other dance tunes. Being a left-handed player himself, Dwight took special interest in southpaw style of Cyril Stinnett.
Dwight has taught fiddle at the Bethel Youth Fiddle Camp in Missouri and Fiddle Tunes in Port Townsend, WA. He has performed at the Smithsonian's Festival of American Folklife and The University of Chicago Folk Festival. In 1998 he received the Iowa Arts Award for his work in preserving traditional fiddling. He is very active in fiddling and enjoys playing tunes with friends and sharing his music with aspiring players interested in learning his style of music.
---
Epps Pepsteppers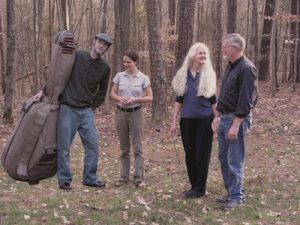 Epps Pepsteppers capture the magic that is old-time music, with feisty fiddling, exuberant banjo playing, and an unstoppable rhythm section. Mary Jane Epps found her fiddling voice in the hills of Virginia and the sands of Arizona. She has recorded with Light and Hitch and the New Young Fogies. Brett and Pan Riggs have roots deep in North Carolina and played with the New Dixie Entertainers and the Carolina Catbirds. Joe DeJarnette honed his many talents touring coast to coast with The WIYOS. He runs studio 808a in Floyd, VA where he has produced recordings for many oldtime artists from the Carolina Chocolate Drops to Bruce Green. The Pepsteppers' musical collaboration is a good tonic: tasty and invigorating!
---
Gerry Milnes and Dave Bing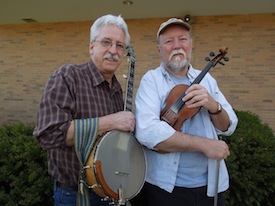 ---
Foghorn Stringband Foghorn Stringband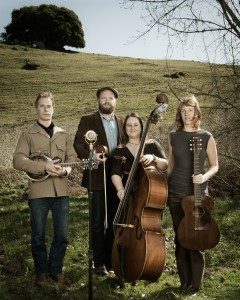 Foghorn Stringband is the shining gold standard for American stringband music, with seven albums, thousands of shows, over a decade of touring under their belts, and two entirely new generations of old-time musicians following their lead. Through all this, they've never let the music grow cold; instead they've been steadily proving that American roots music is a never-ending well of inspiration. From their origins in Portland, Oregon's underground roots music scene, the core duo of Foghorn Stringband, Caleb Klauder, whose wistful, keening vocals and rapid-fire mandolin picking have always been the heart of the band, and Stephen 'Sammy' Lind, perhaps the best old-time fiddler of his generation, have spread the old-time stringband gospel all over the world, but they've also brought in new influences and inspirations from their many travels and fellow bandmates. Vintage country and honky-tonk became a staple of Foghorn Stringband thanks to Klauder's intense passion for the music, and frequent visits to Louisiana have inspired the group to bring Cajun songs into the repertoire.
As the music has changed, the band has changed and reformed as well. Canadian singer and bassist Nadine Landry, from Québec via the Yukon, joined the band in 2008, bringing a wealth of experience as an internationally touring bluegrass musician. New member, singer and guitarist Reeb Willms, came down from Bellingham with a suitcase of old, vintage country songs and a powerfully beautiful, pure voice born in the farmlands of Washington State. It's a new Foghorn Stringband these days, but the music is as furiously compelling as ever. For the group that first broke the good news about Southern old-time music to new generations, a new album and new tour dates are both a return to form and a fresh new start.
---
Larry Edelman – dance caller (Denver)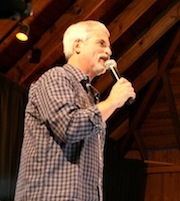 Larry Edelman has been playing, calling, and teaching for traditional dances for more than 35 years. He plays fiddle, guitar and mandolin in several bands, including the Soda Rock Ramblers, the Percolators, and right here in Colorado, the Prairie Chickens. A renowned dance caller and teacher Larry has traveled widely throughout the United States and in Europe, delighting both novice and veteran dancers with his humor, enthusiasm, skillful teaching, knowledge of dance history, and colorful calling. Larry is an avid dance researcher and during the 1980's while collecting traditional square dances in southwestern Pennsylvania, he was awarded a Fellowship in Folk Arts from the Pennsylvania Council on the Arts to study with elder caller Jerry Goodwin, and produced the movie Dance to the Music and Listen to the Calls that documented the apprenticeship. Larry also produced Yee Haw, a quirky and informative movie of how square dancing has been portrayed in historical, non-theatrical motion pictures. Larry has trained scores of square dance callers who have attended his acclaimed intensive square dance calling workshops.
---
Chris Kermiet – dance caller (Denver)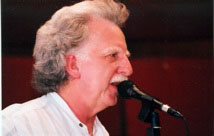 Chris Kermiet has been dancing since he could walk. His father was a square dance caller, and some of his earliest memories are of the dances in the old Grange Hall on Lookout Mountain (outside of Golden, CO). Having called now for over 35 years, Chris calls squares, contras, Appalachian big circle dances, English Country Dances, and celtic ceilidhs. He was recently celebrated as a "Living Legend of Dance in Colorado" by the Carson-Brierly Dance Library at the University of Denver.
---
Patricia Danscen – dance caller (Denver)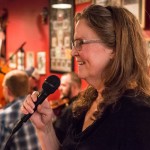 Patricia Danscen's energetic calling and clear, concise teaching has delighted dancers of all ages and levels of experience for 20+ years. She has called dances and taught workshops in Colorado and several other states. In addition to calling, Patricia plays double bass and guitar and performed with a clogging troupe for 12 years. She delights in seeing seas of smiling faces twirling and whirling on the dance floor as she shares her passion for dance and music.